DANCING IN HER OWN FULL MOONLIGHT 
THE EBB AND FLOW OF BEING FULLY WOMAN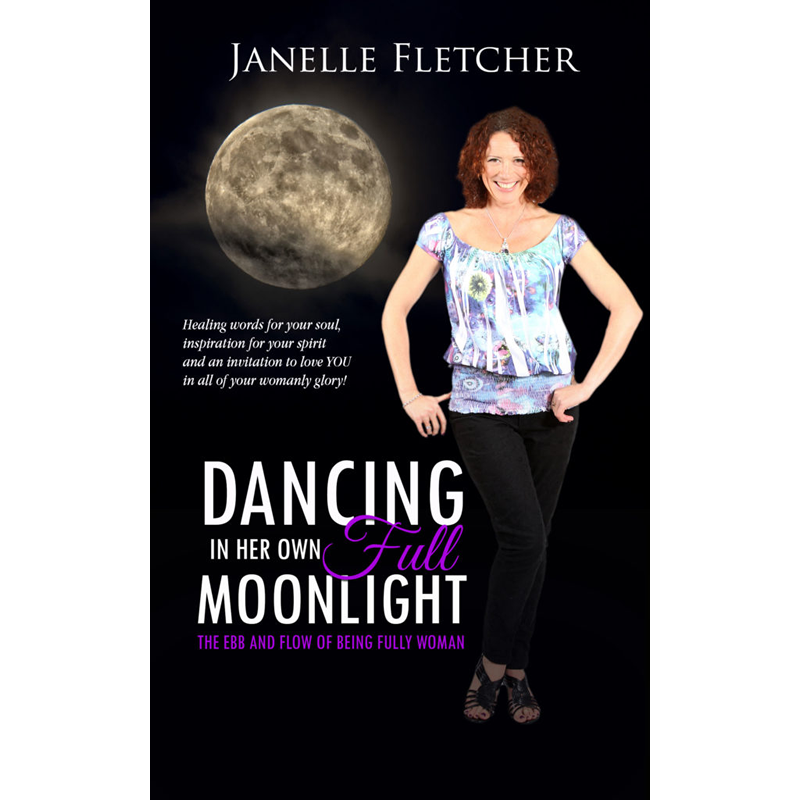 Dancing in Her Own Full Moonlight presents an invitation for you–an overdoer and overgiver, and a woman who has gone through grief, change, and challenges to love yourself and your life in its amazingness and messiness.
Author Janelle Fletcher gives you thirty days of poetry which is the unsilencing of her voice that she kept quiet and hidden for too long. She shares the pining of her soul, the cries of desperation for something different, and a deep appreciation for what and who has been part of her life to date. Through this work, you can create stillness in your daily life, feel into the essence of the poetry, and use the reflection questions as a starting point for your journey ahead into a new vision of possibilities for yourself. Alone or shared with other kindred-spirited women, this sacred ritual seeks to help you find a deep connection within, dance to your own rhythm again, ignite your passion and joie de vivre, and find yourself again amidst the hustle and bustle of a busy life.
This poetry collection offers healing words for your soul, inspiration for your spirit and an invitation to love you in all of your womanly glory!
PRESS RELEASE  |  PRAISE/ENDORSEMENTS  |  AUTHOR/BOOK COVER PHOTOS  |  GET THE BOOK
ABOUT THE AUTHOR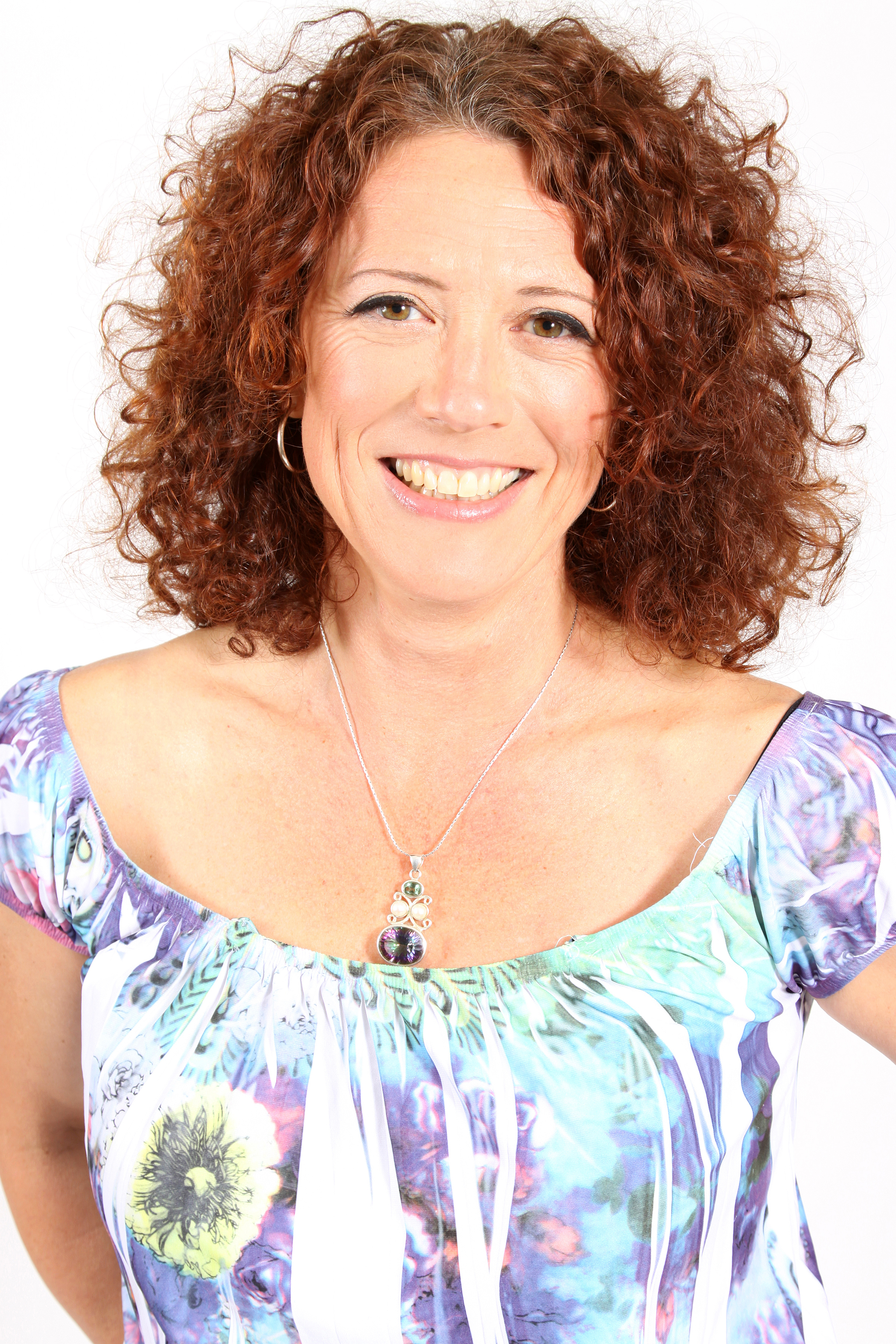 JANELLE FLETCHER is a wise woman, speaker, writer, poet, and feminine spirit guide who invites women to find their home within themselves.  She guides women to appreciate life with all its ups and downs and step into their magnificence as women, mothers and lovers.  Through soul mentoring and healing, women's circles, writing, retreats and rituals, Janelle teaches you to truly love and honour yourself again.  Janelle currently lives in New Zealand.  Visit her online at www.janellefletcher.com
She is also a mother of 6, a lover of a French man, and she thrives on variety, simplicity and all things soulful like family, friends and finding herself.
She is a woman who sits comfortably with people in their struggles through health, body and life changes and challenges and she has a fine balance between empathy and helping people action a new vision of possibilities for themselves. Her heart lies in helping women truly love themselves, their bodies and their feminine essence, as women are the "heart" of a family, a community and are change-makers in the world.
Professionally she has also been seen in TV ads, heard on radio voice-overs, in front of an audience as an engaging and interactive speaker, presenter, MC and teacher and in her growing number of books. She is also known as a vibrant ray of sunshine with an infectious laugh.
PRAISE/ENDORSEMENTS
Janelle writes from the depth of her soul's pain, the rawness and honesty providing a cloak of comfort and community for those who feel they too are alone. Dancing in Her Own Full Moonlight is a beautiful, heartfelt gift for those upon the path of womanhood with its many transitions and challenges. It gives reassurance and a knowing that you are seen, you are heard, and you are not alone.
—Debbie Gillespie, wise woman, www.debbiegillespie.nz
Janelle Fletcher brilliantly creates a journey into herself without leaving home, writing at dawn for thirty days, allowing what comes to arise within her and find its way onto the page. She inspires us to find our own way to truly and deeply receive ourselves and this life we are given.
—Oriah "Mountain Dreamer" House, author of The Invitation, www.oriah.org
Janelle's raw and honest poetry speaks to the silent struggles of a woman emerging into the light and offers comfort and solace to others in times of transition.
—Christine Sheehy, Write to the Heart of Your Business, www.christinesheehy.co
I'm loving these heartfelt poems written by Janelle. They speak to me deeply, amplifying the whispers of my own feminine soul and calling me to deeper rest, deeper self-love, and the recognition that from this place, goodness can radiate and flow out effortlessly to nourish, soothe, and even heal the aching heart of humanity. The questions at the end of each poem are simple invitations to go deeper and unveil what has been peeking out from behind the worldly mask and whispering for attention. It's a book to be picked up regularly as a simple daily reflective practice.
—Katrina Stadler, friend, artist, and kindred spirit
Janelle Fletcher offers us a wonderful guide for connecting with the moon that lives within. Dancing in Her Own Full Moonlight takes the reader on a cyclical journey of inspiration, inquiry, and reflection and shines a gentle light on what it means to be woman.
—Anita Johnston, author of Eating in the Light of the Moon, www.dranitajohnston.com
Using writing as a tool, practice, or prayer to journey back to your true self has always been my very favourite kind of medicine to share with women in circle, which is why I'm giving Janelle Fletcher massive high-fives and deep bows of reverence for not only daring to hear my call, but for being willing to go there and share what she wrote in our thirty days together. Janelle's words are true, real, and raw, and when we share stories from this place, other women can see their own truths reflected back at them. Thank you for being our mirror, Janelle!
—Lisa Lister, author of Code Red, Love Your Lady Landscape and Write Your Freakin' Heart (and Guts) Out programme, www.thesassyshe.com
PRESS RELEASE
WANAKA, New Zealand – Janelle Fletcher's debut collection of poetry "Dancing in Her Own Full Moonlight: The Ebb and Flow of Being Fully Woman" (published by Balboa Press AU – a division of Hay House ), is the unleashing of a woman's voice long kept silent. Fletcher explores themes surrounding womanhood, motherhood, femininity, creativity and spiritual enrichment.
At a personal level, it is an honest, heart-felt woman's journal for those on the path of being a woman, mother and lover with its many transitions and challenges. It speaks to the silent struggles of over-doing and over-giving women and encourages them to find still space within, take off their "be all to everyone" masks and discover meaning and truth in their own highs and lows.
Written over the phases of the lunar cycle, the collection of poetry allows a woman to pick up the book at any time, consider the reflection questions and "find herself" again through sacred ritual journal writing where her own needs, desires and vision of new possibilities can be expressed, seen and heard.
At a global level, it is a resource which will help kindred-spirited women collectively stand up and speak their truth. "Feminine leadership begins when women authentically tell their story, dance to the beat of their own womanly rhythms and embrace their unique purpose as a change-maker in their families, communities and in the world," says Fletcher.
"Let the light of love that you are express herself fully."
INTERVIEW or SPEAKING TOPICS
Life changes & transitions

Feminine leadership – a different way

Listening to your intuition

The over-giving woman syndrome

Body wonderment

The power of finding your voice
BOOK AVAILABLE AT                           BALBOA        AMAZON         BARNES & NOBLE         JANELLE – if you live in NZ
JANELLE'S AUTHOR PAGE for all of her books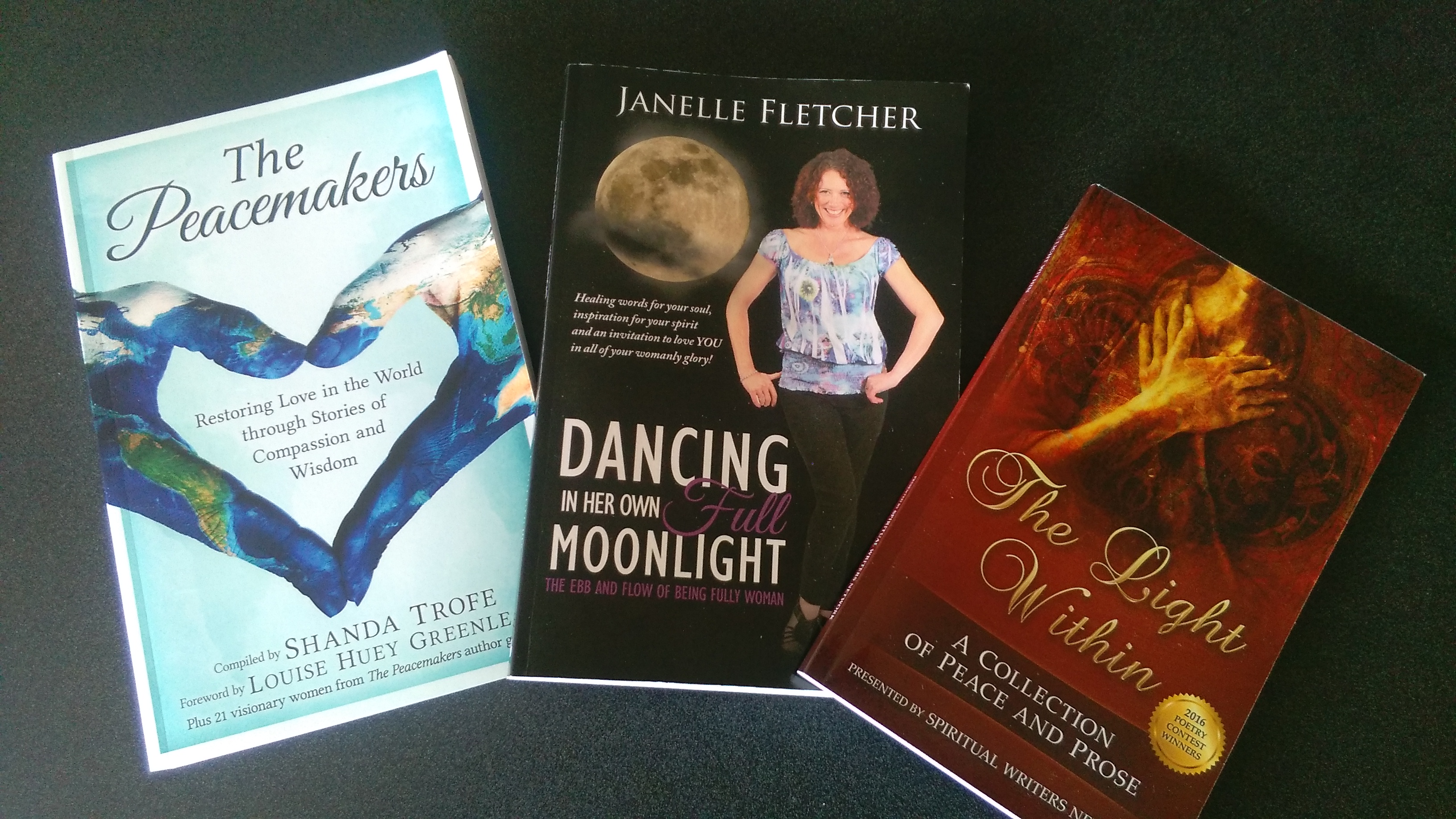 CONTACT
For media requests, interviews, or excerpts from Janelle Fletcher's book(s), please contact:    janelle@janellefletcher.com      +64 21 756 280          www.janellefletcher.com
2/b Bills Way, Wanaka 9305, New Zealand