Janelle Fletcher – 

Speaker & MC, Celebrant, Writer, Events & Causes
Lover of words, wisdom and wonderful moments 
Hi there, I'm Janelle Fletcher – a vibrant woman who oozes professionalism, pizazz and positivity and my forte is to create meaningful and memorable events, ceremonies, speeches and divine moments. An accomplished speaker, MC, published author and independent celebrant (as well as having done a few TV / Radio ads and voice-overs or two!) I am gifted with words, a love of people and a joy of honoring life's changes and transitions – from weddings, funerals, naming ceremonies and other joys or losses in life.
Or if it's team-building activity or conference, book or business launch, a musical or cultural extravaganza or sharing your life's message in a talk, I consider myself part of your team to help you celebrate, commemorate or consider the event as a "a fabulous occasion" . Let me take away the stress and create something seamless and sensational for, and with you. Or perhaps you need a presenter for your biz video, TV ad or upcoming promotion. At ease behind a camera and with an ability to "get people on board" or in contrast "create that poignant moment" I know how to do that.  Advocating for charities and causes, supporting a message or supporting people thrive, this is my happy place!
Unique, bespoke and engaging are my utmost goals for your special event. Highly professional, I always bring my energy and vibrancy as well as words, presence and inspirational personality to the fore! Anyone can string a few words together. But not everyone has the ability to inspire, influence and engage people in the celebration, conference or event. My forte is just that! With rave reviews, let me capture you and what you're wanting to create.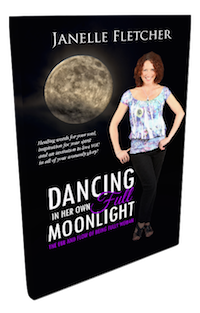 Get your copy of this women's journal today!   It's time for YOU – your needs, wants, desires and purpose in the world to be seen, heard and recognised!
This poetry will sing to your womanly soul, and the sacred writing journaling will help the real you shine!
Coupled with her vibrant personality and excellent facilitation skills the launch really was a memorable success.

Jane Bruce CEO Day Springs Trust
Totally committed to generating an inspiring event, Janelle kept the day flowing and seamless, intuitively motivated the participants and for me personally was incredibly easy and accommodating to work with!

Lou Williams - Sally Anderson Live Coaching Day
I became aware of the commanding presence emanating from you and the level of energy in the room. At each step people were riveted. You used your gift for presenting with aplomb, taking the audience on a journey, touching hearts and evoking laughter!

Pat Armitstead - The Joyologist
The depth and cohesiveness of Janelle's work appears seamless but is the result of truly listening to the intention and desires the client(s) and her ability to work with them to create something beautiful and honouring.

Debra Gillespie
I've been so impressed with her prep in the planning stages and her energy on the night! She has a lovely way of making the audience smile and feel part of the event.

Natalie Cutler-Welsh - The Go To Girl
Janelle excels at honouring special occasions, capturing the essence of what makes them special and delivering the messages in a confident and authentic manner.

Jen Rumore
Thank you for speaking Janelle. I found you totally inspirational. I just had to come up and let you know what insight you had given me in such a short time."

Sheree - Personal Trainer
Thank you so much for all the LOVE and energy you are putting into changing our world and into Eden. We came away so inspired. You are such a passionate, intelligent, caring and creative woman.

Deb Schwarz - Eden National Manager
Wow you are amazing! You have a beautiful gift and I'm so glad to have met you and just at the right time too.

Sheryl - Passionate Juicy Living Night
She is a deeply empathetic and strong woman whose compassion for supporting others creates a memorable event that touches the heart, whether that be a transition or naming ceremony, MC'ing or supporting a cause.

Debbie Gillespie
The evening for me was just what I was looking for, personally and in a business sense. Your energy, enthusiasm and beauty is always appreciated.

Nerralee Johnson - Cafe Owner
It was like you knew me and my situation to a 'T'. You ooze confidence and that's what I'm after. You soooooo upped the energy of the night."

Contours Women's Gym member
Janelle Fletcher is the embodiment of what I call courage of heart. It means to show up in life in its fullness and do so with wisdom, realness and grace.

Emilia Llahti - Sisu not Silence campaign about non-violence
We were all captivated by Janelle's warmth and charisma! Janelle is an engaging and honest speaker who inspires in a very real way. There is nothing vague or airy-fairy in her approach.

Lisa Stevenson - Sea Escape Day Spa owner